An Introduction to Home Alarm Systems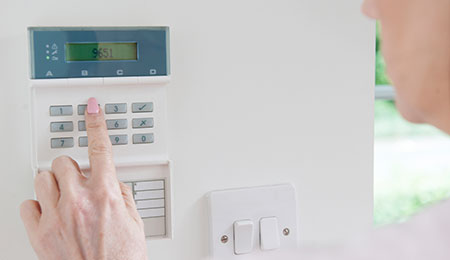 We know you always want to feel safe and secure in your own home. You want to be sure your family, pets, and home are all protected—whether you're at home or away. To give you the peace of mind you need, you can customize a home security system tailored to your needs. Your home security system may include security cameras, alarm systems, home video surveillance, home security monitoring, and more.
The Purpose of Alarm Systems
Alarm systems can serve a variety of purposes in the world of home security. When activated, alarm systems can set off a loud alarm and/or a silent signal to alert authorities that something isn't right. Alarm systems can give you and your family the peace of mind that you'll be protected, no matter if you're inside the home or away.
How Alarm Systems Function to Keep You and Your Home Safe
Alarm systems are made up of many different parts—each of which serves a different purpose. From the keypad used to control everything, to the less noticeable parts, each one works to help keep you and your family safe from harm—when you're in the home or away. Learn a little more about the function of some of the parts of an alarm system below.
Keypads
The keypads serve as the brain of the entire alarm system. Secured next to common entrance points in the home (e.g. front door, garage, back door), your keypads are used to arm and disarm the system. Alarm systems can be set to different modes, depending on your security needs. Some of these include "Always On", "Stay", "Stay Instant", "Nite", "Nite Instant", and "Vacation". By using the modes correctly, you can help reduce costly and frustrating security false alarms.
Door/Window Sensors
Door and window sensors can come in hardwired, wireless, or mini-wireless versions. Small and inconspicuous, these sensors are an integral part of your alarm system. When attached to doors, windows, or anything that opens/closes in your home, these sensors can help keep you safe. If your alarm system is on and any door or window is opened, the sensor will cause an alarm (silent or audible) to sound, while also alerting your security company of a potential threat.
Sirens
Positioned throughout your home in places where they'll be heard and not seen, the sirens can help deter burglars and alert you and your family of a potential danger. When your alarm system is triggered, the sirens will let out a "yelp" or "steady" tone, which will let burglars know that they've been caught, while also warning you to get out (or stay out) of your home.
Alarm Screens
If you enjoy leaving your windows open to let fresh air in, alarm screens can provide you with the security and peace of mind you need to do so safely. Alarm screens are custom designed to fit any window or door and interwoven with sensors and alarm wires. If an intruder attempts to detach, cut, or tamper with the screen, the alarm will be triggered.
Motion Detectors
Motion detectors can be an extremely effective part of your alarm system. Featuring state-of-the-art microwave and PIR technology, motion detectors can help you reduce false alarms through pet immunity, quad-zone logic, and/or and anti-crosstalk system. When the motion detectors pick up movement or a change in energy, they will trigger the alarm system to help keep you safe.
Glass Breakage Detectors
Unfortunately, not all burglars are going to walk through a door or window to enter your home. Fortunately, though, glass breakage detectors can help keep you safe in these instances. In the same way that a motion detector or door sensor works, your glass breakage detectors can trigger an alert if someone were to break glass to enter your home.
Our Alarm Systems and Home Security Services
We have been dedicated to keeping families safe for more than 30 years through advanced home security systems and monitoring. Contact us to set up a free home security consultation. We'll go over your options for alarm systems and help you develop a home security plan just for you and your home. Learn more about some of the other great features of our alarm systems below.
Social Share