Home Security During the Holidays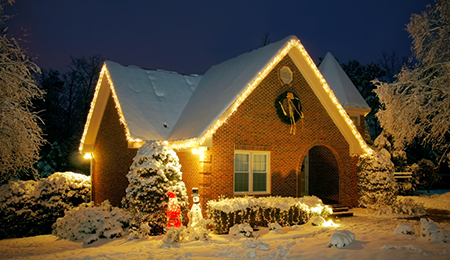 Whether you're going on vacation, working extra hours, or having packages delivered to your home frequently, you may be concerned about your home security while you're out of the house. How will you know if your home and belongings are safe while you're away? Here are 5 tips to help you protect your home during the holidays:
1. Going out of town? Make it look like you're home.
AAA predicts that more than 98 million Americans will be traveling somewhere for the holidays this year. This is a dream for burglars, who look for easy targets: homes that appear empty. To help protect your home while you're away, here are a few things you can do to make it look like someone's home:
Look into a programmable light switch so you can turn your lights on/off from your phone
Ask a neighbor to park their car in your driveway
Have someone you trust get your mail and put your garbage can on the curb
Program your electronics to turn on and off periodically
2. Don't blast your whereabouts on social media.
There's nothing wrong with posting exciting news on social media; we all do it. But if you're about to leave for vacation, that is not the time to be blasting your whereabouts. By posting online that you're going to be out of town, you're just giving burglars an invitation to come visit your unattended home. Instead, we recommend waiting until you get back home to share your pictures and memories online.
3. Invest in a home security system.
Whether you want extra protection while you're sleeping or constant monitoring while you're traveling, you can make sure your home and belongings are safe with a home security system.
Look into a company with quick response times and good customer service—so you won't be  treated as just a number. With 24/7 home security monitoring, you can be sure your home is protected, no matter where you are.
4. Make sure your homeowners insurance policy is up to date.
No one wants to think about the worst that could happen, but that doesn't mean you shouldn't be prepared. Take a look at your homeowners policy—especially before you head out of town—to be sure you're covered. As an incentive, many insurance companies will give you a discount if you have a home security system in place.
5. Consider having your packages delivered to a PO box.
With the holidays coming up, many of us are ordering packages and having them delivered. Unfortunately, packages tend to get delivered while we're at work or out of town. To avoid having your packages stolen from your doorstep, you may want to invest in a PO box.
Need more home security tips?
We would be happy to provide you with a free security consultation. We'll go over your specific home security concerns and walk you through your options for security and monitoring. Click below to learn more about our home security services.
Social Share