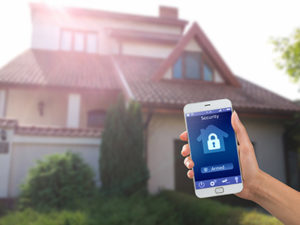 How to Keep Your Home Safe in the New Year
A new year is synonymous with new beginnings, a fresh start, and change. While we take this time to set out and conquer different goals for ourselves, it is also important to prioritize safety. Unfortunately, crime is still present in our society, which is why keeping our homes safe is critical at all times. Learn how to best protect your investment as we navigate this new year with helpful tips from the team at Moore Protection.
Install Landscape Lighting
Having adequate lighting is a great way to deter burglars from trying to break into your home. By illuminating the exterior of your property, and including motion-sensor lighting, your home may appear less attractive to those attempting to enter.
Secure Doors and Windows
While securing your windows and doors may seem like common sense, it can be easy to forget. Leaving doors and windows open or unlocked gives unwanted guests the opportunity to gain entry into your home. And while you may think burglars only seek out homes that look unoccupied, this is far from the truth. Doors and windows should be secured at all times, whether you are home or away. To better protect your space, you can install sensors that indicate when they are open or closed.
Keep Valuables Out of Plain Sight
Your valuables should be safe in your home, however, this isn't always the case. When items are left out in the open and are visible through windows or doors, you can fall victim to theft. Wallets and purses should be put in a safe place when not in use. Additionally, we recommend keeping money, heirlooms, important documents, etc. in a safe or hidden space inside of your home.
Invest in Home Security Services
Lastly, investing in home security services is a great way to ensure your home is protected. At Moore Protection, knowing you means knowing that you are safe when you're home and that your home and family are safe when you are away. We offer many different types of home security systems, including alarm systems, security cameras, video surveillance, remote home monitoring, and portable monitoring. We also offer fire systems and critical condition monitoring in the event of a fire as well as danger from other elements.
Keep Your Home Safe in the New Year With Services From Moore Protection
The safety of you, your family, and your home is our top priority. With Moore Protection there's a difference. It's the difference between security consultants vs. alarm salespeople. It's the difference between keeping you safe vs. keeping you as a name on a list of a nationwide marketing conglomerate. It's the difference between an actual service industry vs. a recurring revenue industry. The difference with Moore Protection is stated in our two-word mission statement: We Protect. With this in mind, we hope to be able to provide you with the high-quality security that you deserve. To schedule a free security consultation or learn more about the different services we have to offer, give us a call or fill out the form available on our website.
Social Share