If you have a home security system, you may have had to deal with a false alarm at some point. When the alarm on your home security system is triggered, we react immediately and contact the appropriate people right away. Sometimes, we end up dispatching the police, and they find no evidence of a criminal offense or emergency.
This is considered a false alarm, and it can be annoying and frustrating for you, emergency services, and your neighbors. If your system sets off too many false alarms, a real emergency may not be taken as seriously.
We want to make sure you never get treated like "The Boy Who Cried Wolf". By reducing the number of false alarms at your home, you can ensure prompt police response in the event of an actual emergency.
5 Most Common Causes of False Alarms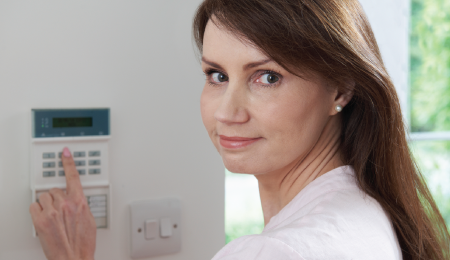 The first step to preventing false alarms is to identify what is setting them off in the first place. Here are the 5 most common causes of false alarms:
1. Human Error—If you don't take the time to understand exactly how to use the system and train everyone else who will be using it, you can set off the alarm without intending to.
2. Incorrect Installation—When a home alarm system is installed, every sensor and detector has to be aligned appropriately, while the rest of the equipment is installed just right. This is more frequent with do-it-yourself installations.
3. Faulty Equipment—While this is rare with high-quality equipment, occasionally a faulty piece of security equipment will trigger a false alarm.
4. Low Batteries/Unreliable Power Source—Wireless security systems will need to have their batteries replaced every so often. A loss in power or battery level can sometimes trigger a false alarm.
5. Unlocked/Loose Doors or Windows—If any doors or windows are loose or unlocked, and wind or another disturbance opens one, the alarm will go off.
How to Prevent False Alarms
Once you've identified what could potentially cause a false alarm in your home, you can determine how to prevent future occurrences. Here are some steps you can take to reduce or prevent false alarms:
1. Get to know your system very well. Ask as many questions as you need during installation. Know how to cancel the alarm when activated, how to set the alarm, and how to disarm it.
2. Properly train anyone who will be using your system. Make sure they know the proper codes and what to do in the event of an emergency. Go over the manual with them, if necessary, or demonstrate each of the required tasks.
3. Maintain and service the system properly. Change the batteries and check the power source frequently.
4. Lock all windows and doors before setting the alarm. Make sure not to open or unlock them after setting the alarm.
5. Notify your home security monitoring company if your system doesn't seem to be working properly, you are remodeling your home, or you want to test the system.
6. Make sure the alarm system is out of reach of young children.
Whenever your alarm is triggered, we take it seriously to be sure you and your home are safe from harm. Help us make sure you get the help you need, when you need it, by ensuring that your security system is working properly. Click below to learn more about our 24/7/365 home security monitoring.
Social Share