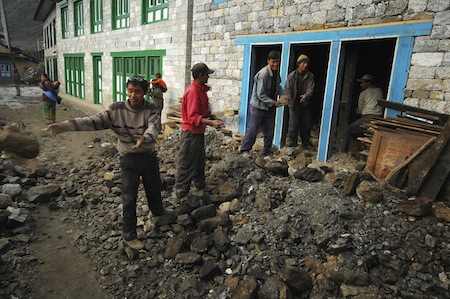 At Moore Protection, we are saddened by the devastation that has recently taken place in Nepal. On April 25th, a 7.8 magnitude earthquake near the capital of Kathmandu struck the country. This earthquake took the lives of over 8,000 people and injured an additional 19,000. The massive jolt of the earthquake sent a series of avalanches on Mount Everest and Langtang Valley taking the lives of many more. Just as they thought the devastation was coming to an end, a second earthquake at a 7.3 magnitude struck the capital city again. An additional 2,500 were killed and injured from this major aftershock.
Because of this horrible devastation from our friends across the globe, we want to help you prepare your home in Los Angeles for a case like this.
Unfortunately, earthquakes are unpredictable, but there are many ways to prepare in the case of an emergency. We have compiled a list of earthquake preparation and safety tips to keep you as safe as possible during an earthquake.
Preparation Tips
To keep your family and home in Los Angeles safe from an earthquake, the first and most important thing to do is to prepare a safety action plan. Here are some things to consider when developing a plan for your family:
Prepare an earthquake emergency kit filled with

Three day supply of water
Non-perishable foods
Manual can opener
Paper plates
Cups
Utensils
First aid kit
Flashlight
Battery operated radio with extra batteries.

Install or update smoke detectors in your home
Learn how to properly shut off water, gas, and electricity to the house and teach other family members
Obtain and store at least one multi-purpose dry chemical fire extinguisher. If your home has more than one level, have one on each level for added security.
Preparation for the home
It is crucial for the safety of your home and your family to properly secure appliances and large furniture in the case of a major earthquake. Secure the following objects to the wall with safety straps or brackets:
Bookcases and cabinets
Television, computers, armoires, stereos, and other heavy objects
Artwork, picture frames, bulletin boards and other hanging décor
Support safety cables inside of ceiling lights
If you have an extensive collection of figurines, heirlooms or gentle objects, you can secure them down with the use of putty to ensure they will not fall during an earthquake.
Safety Tips
Now that you have made your home safe in the case of an earthquake, here are some safety tips to follow in the case of an earthquake.
At the first sign of an earthquake, stop what you are doing, drop to the floor and take cover under a sturdy object or lie against an inside wall away from any objects or windows.
Stay close to the floor and hold on to sturdy furniture for balance
Cover your head with your arm
Stay away from doorways
Do not run outside
If you are already outdoor, move yourself into an open area that is free of trees, building, or electrical lines
We hope that these tips will help you in the time of an emergency. If you would like to help those that have been rattled by the earthquake in Nepal, please click here to make a donation. Any contribution will provide relief to families and children that have lost their homes.
Social Share