Smart Doorbells: More Than Security
Growing up, we were accustomed to seeing cameras outside a home solely for security, which is one of the main reasons to have cameras installed. Nowadays, a new generation of cameras is used for security, smart doorbells.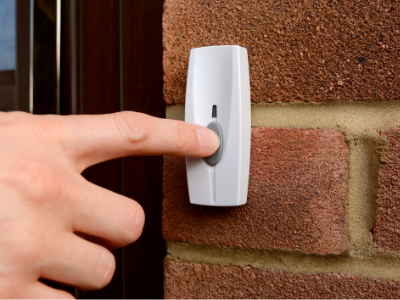 Unlike regular security cameras, smart doorbells are equipped to do so much more. For example, some smart doorbells come with built-in speakers and microphones that enable you to talk back and forth with whoever is in front of the doorbell camera. You can easily communicate through your smart doorbell from anywhere and talk to delivery drivers, check to make sure your kids arrive home safely, and record all video footage to help prevent any suspicious criminal activity.
What Is A Smart Doorbell?
Smart doorbells are an integrated video system that brings extra security to your home by allowing you to see who rings your doorbell or approaches your door, even if you're not home. Smart doorbells have become essential for people who are often not home or have mobility issues. They allow you to use your smartphone, laptop, or tablet to communicate with your visitor if you cannot get to the door.
Types of Smart Doorbells
Depending on the type of connection you are looking for, smart doorbell cameras can be battery-powered, hardwired, or both. Remember that no matter the type of video doorbell camera you choose, it will need to be connected to a secure Internet network, and you'll have to access its features through a mobile app.
Hardwired Smart Doorbells
Video doorbells usually need 16 volts or more of power to operate and can be easily connected to your home through existing doorbell wires. Most new homes have more than enough volts of electricity to power a smart doorbell through hard wiring, but older homes have roughly 10 volts of electricity, which is usually insufficient. If you choose to hardwire a smart doorbell into your electrical system, it's best to contact a professional to ensure proper setup.
Wireless Smart Doorbells
Wireless smart doorbells are battery-powered and are mounted directly to your wall or door. This makes the location of your smart doorbell flexible since you don't need to worry about existing wiring. Wireless doorbells typically have a 100° to 120° lateral field of vision, letting you see a wide range of your door and its surroundings. Wireless smart doorbells will send push notifications via the internet whenever their motion detectors detect movement.
Key Features of a Smart Doorbell Security Camera
With a range of smart doorbells on the market today, how do you know which one is best for you? Well, just know they work pretty similarly.
First, you install them outside your house at the entrance of your choice. Once installed, you'll need to connect it to a secure Wi-Fi connection and set it up on whatever app is associated with it. Once you complete these steps, you'll be able to take advantage of the many features, which typically include:
One-way video via smart app, where you can see live video streams, recorded clips, or captured images when someone rings your doorbell.

Connection to the doorbell itself, which sounds throughout your home – just like a traditional doorbell.

Motion alerts are sent to your mobile device when someone comes within range of your doorbell, even if they don't ring it.

A night-vision camera that provides clear images even when it's dark out.

Two-way audio via integrated microphones allows you to speak with the person at your front doo

r from your mobile device, no matter where you are.

Integration with other smart devices, such as lights automatically turning on when motion is detected.
Remember, the most important feature of a smart doorbell is its mobile app. You have complete control of your smart doorbell through this app. The app enables you to see who is in front of or near your door from the palm of your hand anywhere in the world.
Install Your Smart Doorbell with Moore Protection
If you have recently purchased or are thinking about buying a smart doorbell, let the security experts at Moore Protection help you through the installation process to ensure proper setup. There are many benefits of having a smart doorbell, with the main benefit being security. You'll have peace of mind knowing who is always at your door. Contact us today for more information!
Social Share