Do I Need a Home Security System?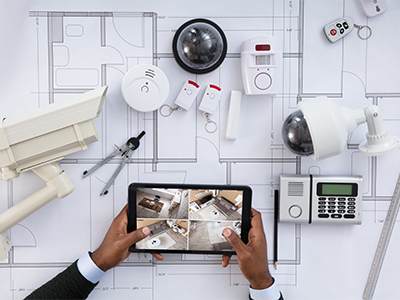 In the age of broadband and advanced technology, home security systems have reached new levels of innovation. Advanced systems are easily accessible and becoming more affordable each year. It may surprise you then to know that less than 30% of all homes have security systems in place. Many people still think that home security is unnecessary and expensive. If you're reading this, it's likely because you're on the fence about buying one yourself. Take a look at the facts and then decide if a home security system is right for you.
Will a Home Security System Really Make My Home Safer?
When thieves scout a home as a potential target, they look for deterrents. They want to get in and out as quickly as possible. They'll look for windows that are effortless to break, locks that are simple to pick, and doors that are easy to bust open. They will also look for signs of a home security system. According to a UNC Charlotte study, 83% of thieves specifically look for an alarm or camera system before deciding to break in.
Home security systems deter burglars because they don't want to risk getting caught. And with 70% of homes unprotected, they have plenty of easy targets to choose from. In fact, homes with no security are 300% more likely to be robbed. Securing your home will significantly decrease your risk for break-ins and burglaries.
Reasons To Get a Home Security System
Over 60% of break-ins take place at residential properties, with a higher rate of occurrences amongst rentals. Lower-to-middle income households are also more at risk, likely due to their lack of security. Even statistically safe neighborhoods can be targets. So whether you're a homeowner or renter, you can benefit from a home security system.
Protect Your Property
According to FBI statistics, there were 1,117,696 burglaries in 2019 alone. Victims suffered a combined total of $3 billion in property losses. Since secured homes are less likely to experience break-ins, they're also less likely to endure property loss and damage.
Protect Your Family
27.6% of break-ins occur when someone is home. Out of those break-ins, 26% result in bodily harm. When you secure your home, you also protect your loved ones from injuries, kidnappings, or even death.
Catch the Culprit
If you do experience a break-in, a home security system can help you get the justice you deserve. Video surveillance and audio recordings can help law enforcement identify the offender. If you have sensors, alarms, and live monitoring, it's also possible to spot the culprit at the scene of the crime.
Lower Neighborhood Crime Rates
Burglary rates have decreased 48.5% since 2010. Security systems have played a major role in this change. When you install an alarm or camera system, you protect your home and also your surrounding neighbors.
Receive Deductions on Insurance
Since home security systems significantly decrease the chance of a break-in, homeowners and renters insurance providers view your case as low-risk. For this reason, you'll be eligible for discounts on your premium. This should help offset the cost of a security service.
Choose a Home Security System from Moore Protection
Whether you live in an apartment or a mansion, you'll benefit from the protection of a home security system. The safety of you, your family, and your home is our top priority. With Moore Protection, we aren't interested in sneaky sales pitches and empty promises. Our goal is pure and simple: to protect. After evaluating your home, we will help you choose the right service for your budget and needs. To schedule a free security consultation or learn more about the different services we have to offer, give us a call or fill out the form available on our website.
Social Share