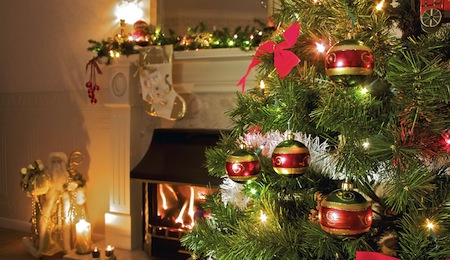 Everyone loves having their beautiful, fresh Christmas tree in their home. It really brings the joy of the season into the home and adds a lovely pine smell. Families gather together to decorate the trees with ornaments that tell stories of ages past. In addition, families might make ornaments or garlands together to make their tree really part of their home.
Unfortunately, Christmas trees can also be extremely dangerous for your home. According to the National Fire Protection Association (NFPA), between the years of 2007 and 2011, annually Christmas tree fires have caused on average:
230 Home structural fires
22 Civilian injuries
6 Deaths
This means that for every 40 home structural fires, one person died. This is higher than the normal percentage of 1 death in every 142 home structural fires. We want your home to stay safe during this time. Take a look at these tips:
Keep Your Tree Hydrated
Keeping the tree as green as possible for as long as possible is one of the best ways to keep your tree from igniting. A dry tree can be inflamed in a matter of seconds. As soon as you get home from the tree lot, cut off the bottom of the tree and place it in water. Make sure that you water it everyday once it is set up in your home. Always keep your tree moist.
Check Your Lights
Almost half of the Christmas tree fires were caused by electronic malfunctions or incorrect light voltage. Make sure that you do not overload your outlets. When an outlet is overloaded, this can lead to sparks. Also make sure there are no unexposed live wires. It is also better to use newer LED lights that are cooler when they are turned on. Conventional holiday lights can get very warm, and this will dry out the tree very quickly. Always, turn the lights off as soon as you go to sleep.
Place Away From Heat Source
There is the classic Christmas look where the tree is placed close to the roaring fire, but this is one of the most dangerous set-ups you can have. Almost a quarter of fires are started due to the trees proximity to a heat source. Keep your tree as far away from your fireplace and heater as you can. A fire or heater will rapidly dry out your tree and easily ignite it. Also, NEVER use candles to decorate your tree.
Fireproof Your Tree
There are many ways to do this. There are many different kinds of fire retardant coatings that you can spray onto your tree that will slow combustion and can prevent structural fires. The USDA Forest Service recommends making a solution that you can pour into your tree's water, that should keep your tree from igniting.
Use an Artificial TreeThere is still the possibility of an artificial tree catching fire, but it is much less likely than a dry, natural tree. They do not have the nice pine scent, but a number of artificial trees look very similar to natural trees. Your family will still have fun decorating the tree whether it is natural or not.
As always we recommend that your home has a smoke detector and your family has a plan of what to do during a fire. Check to make sure that your fire alarm system is working. We know that your home is important to you, but the people inside are the most important. Moore Protection wants to wish you a happy and safe Holiday Season!
Social Share