Give The Gift of Security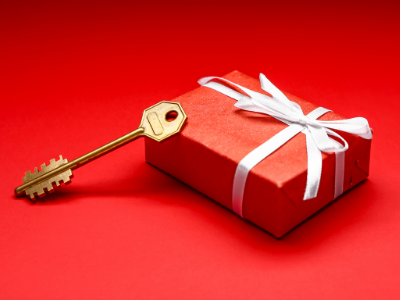 The holidays are here, and home burglaries are on the rise. As always, the safety and security of your family and friends are always a top priority. Today in the technology industry, there have been so many innovations and advances, especially in the security industry. It has become easier than ever to install effective home security devices due to these advancements. So, if you've got a loved one looking to make their home more secure, consider giving the gift of security with some of these gift ideas.
Security Cameras 
Having a security camera in or outside your home gives you peace of mind. Whether your home or not, just having visible security cameras helps deter someone who may be thinking about breaking into your home. If they see that you have surveillance cameras, it will make them think twice about messing with you. Many new security cameras can now alert you when someone comes to your front door but does not allow them to see you. While indoor and outdoor security cameras and pet cameras have become increasingly popular, not everyone has them. This is the perfect gift to give to a loved one to ensure they stay safe. 
Video Doorbells
Along with the popularity of security cameras came a high demand for video doorbells. Video doorbells have become very useful not only for homes but also for apartments and businesses. When someone approaches your door or rings your doorbell, you receive a notification on your phone allowing you to tap into a live video feed where you can see and speak to whoever is there. A device like this makes the perfect gift for someone who lives in an apartment or does a lot of online shopping.
Smart Locks
Forgetting to lock your door or close your garage door is now a concern you no longer have to stress over. With a smart lock, you can easily lock your doors and close your garages all from your smartphone. Most smart locks come with built-in Wi-Fi and an app that allows you to track your lock activity, meaning you can see if someone has opened your door other than you. Having the ability to double-check that you locked your doors at your fingertips rather than go all the way back home is a gift that keeps on giving.
Motion Sensors
Gifting motion sensors to a loved one makes the perfect addition to any new or existing security system. A motion sensor or detector is an electronic device that uses a sensor to detect nearby people or objects. When a sensor detects motion, it will alert your security system and your phone alerting of the activity. Many motion sensors come equipped with lights that turn on when any motion is detected. Motion sensors with lights are an excellent deterrent for anyone lurking around where they shouldn't be. It's the perfect gift for anyone with a big home and yard. 
Moore Protection Gives The Gift That Keeps on Giving
Staying safe is a huge responsibility and a number priority for everyone. It doesn't matter if you are single, married, elderly, have a family or business adding in any security monitoring helps give peace of mind. It also allows authorities in any investigations that may take place due to suspicious activity. With the help of Moore Protection, you can give the gift that keeps on giving. Any home security gifts you give to your loved ones show that you care and ultimately help them stay safe. Contact us today and let us help make your holiday shopping easier and your loved ones safer.
Social Share