Every Home Needs an Alarm System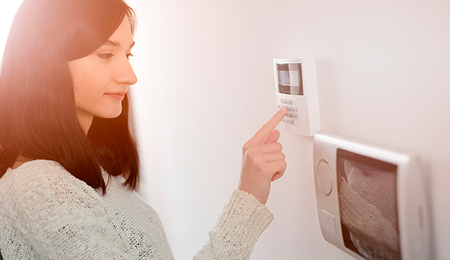 In fact, if you don't already have one, it's time to consider buying one. An alarm system is one of the most important parts of any home. It will deter criminals, it will give you peace of mind, and most importantly, it will keep you and your family safe. Have you not thought about getting an alarm system for your home? Not sure if you even need one? Here are four ways that alarm systems work to make you safer.
1. Protection Against Fires
It's not something that people normally think about, but an alarm system can offer you more fire protection than just your standard smoke detector. Most home security warning systems have early detection that detect more than smoke, they can't detect early signs of heat. Not only that, but they can proactively contact the authorities before the fire gets out of hand. Remember, it only takes about thirty seconds for a fire to break out, so you'd rather be safe than sorry.
2. Protection Against Carbon Monoxide
Carbon monoxide is the true modern day silent killer. Colorless and odorless, this deadly gas can build up in your house, poisoning you and your family, and no one would be able to even detect it until it happened. That's why a carbon monoxide detector is part of any comprehensive alarm system. Having one in your home is going to make you and your family that much more safe.
3. Protection Against Criminals
This is by far the most common reason that someone gets a home alarm system. Statistics say that homes without security systems are 2.7 times more likely to be target in the event of a burglary. If you don't have an alarm system, criminals might start "casing" your house, which means they watch the times you come and leave and look for vulnerabilities. Once they find a vulnerability, they'll burglarize your home.
4. Remote Protection
Do you hesitate to go out of town, because you don't know what might happen to your home while you're gone? You're not alone. Most people get scared when they're going out of town that they're going to get burglarized or something awful will happen. You need peace of mind when you're going out of town. That's why you should have a home alarm system so you can react if something goes wrong. By getting an alarm system, you're also getting the alarm system team that goes along with that's there to help you in case of an emergency.
Make Your Family Safer With an Alarm System
If you've never considered an alarm system for your house, you might be passing up an opportunity to make your family as safe as it could be. By getting an alarm system you're helping to protect your family from fires, carbon monoxide, and criminals all at the same time. You get the peace of mind to go out of town without worrying, and most of all, you get the peace of mind that your family is protected. Get an alarm system to the protection that you need.
Social Share