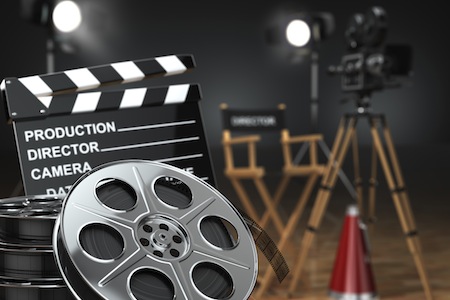 It's that time again! We are here to announce the 2015 Morpheus Award Winner! This is an award that we, at Moore Protection, created to pay tribute to movies that displayed the best use of home security systems. This is a fun award that our staff and customers love to talk about. We have a majority of customers that work in the film industry, and our Morpheus Award is a fun reminder to those customers to keep their homes safe during award season.
2015 Morpheus Award Winner
Although many exciting award shows are coming up later this month, we have given our companies "prestigious" award to GONE GIRL! This thriller kept us on our toes and impressed us with their accurate usage of an intensive CCTV security camera system. Gone Girl came to theaters last October and featured Ben Affleck portraying Nick, a man who is desperately searching for his disappeared wife Amy Dunne played by Rosamund Pike. Nick is suspected of murdering his missing wife, but as we later find out, she planned her disappearance as revenge to her cheating husband. Through her disappearance, the wife, Amy, used a series of false clues to confuse her friends, family and the media. In one of her clues, Amy uses an extensive surveillance system at the lake house of her former boyfriend to implicate her husband in her criminal web. The security system was accurately portrayed and was rightfully given the 2015 Morpheus Award.
The Runner Ups
This year brought many close contenders for this year's Morpheus Award. Our two runner ups for this year's award were RoboCop and Nightcrawler.
RoboCop
This years remake film, RoboCop was a close second to Gone Girl. A Detroit cop becomes critically injured in a car bomb attack and is healed by half human, half machine parts that make him RoboCop. In the process of his transformation, the scientists hid his memories. He later finds them in a CCTV surveillance footage tape that ultimately helps him restore his lost memories.
Nightcrawler
This film featured Jake Gyllenhaal as a crime reporter that shoots footage of crimes in affluent areas in Los Angeles. In his major heist, he is seen in a Beverly Hills estate that is fully equipped with a security system that immediately notified the police of his crime.
We love hosting this award. Our clients and customers love the movies just as much as we do. This award is a fun reminder to be safe during these award seasons when thieves and burglars know that you are away from your home. At Moore Protection, we are dedicated to keeping our clients safe at all times. We hope that you enjoyed our selection for the 2015 Morpheus Award and we hope you join in the fun next year.
Nominations for the annual Morpheus Award are open to the public in November to coincide with the start of Hollywood's Award Season, with the winner traditionally announced just after the Academy Awards ceremony. Keep an eye out for the best use of security systems when you attend the movies this upcoming year! We'd love to get your feedback!
Social Share