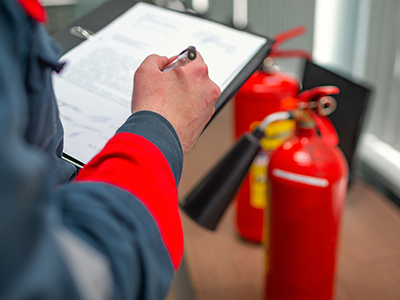 Fire Safety Tips to Prevent Serious Damage and Tragedy
House fires are all too common in the United States. Our country has one of the highest fire death rates in the industrial world. More than 3,000 deaths and over 20,000 fire-related injuries have been reported each year. But what causes these fires to occur? The main culprits of house fires are leaving food unattended while cooking, heaters, electrical equipment, lighting, smoking, and candles. Practicing fire safety is essential to prevent serious damage that can also prove to be life-threatening. Learn helpful fire safety tips with the team of experts at Moore Protection.
Ensure Smoke Alarms are Installed and Working
Not having a functional smoke detector can result in devastating consequences. Many fire-related fatalities occur because the detector failed to alert those inside. It is important to make sure it is operating properly, whether that means replacing the batteries or installing a new one. Smoke detectors should typically be replaced every ten years and should be in all rooms that are considered sleeping areas.
Create an Escape Plan
Having an escape plan for if a fire were to start is critical. All family members or those residing in the home should meet to discuss escape routes. Every room should have at least two ways to escape. We highly recommend designating a meeting spot once out of the house that is a safe distance away from the fire. From there, it is important to call 911 and get any medical treatment if necessary.
Fireproof Your Home
Fireproofing your home can help keep your family and home protected. Some of the best ways you can fireproof your home include investing in a fire extinguisher, making sure smoke detectors are working properly, as aforementioned, blowing out candles after use, storing flammables in a safe space, clearing vegetation outside of your home, and more.
Know Who to Call
In an emergency situation, such as a fire, it is important to know who to contact. Contacting 911 is crucial, so they can get to your home as quickly as possible and put out the fire. In more serious situations, first responders can also provide medical attention and make sure everyone is safe. After the fire is extinguished, it is a good idea to document what happened and take photos to later share with your insurance company.
Contact Moore Protection for More Fire Safety Tips and to Learn More About Our Fire Systems
With residential fires occurring every 60 seconds in the United States, it is important to be prepared if disaster strikes. At Moore Protection, your safety is our number one priority. Our professional team knows the ins and outs of fire safety and is more than willing to further discuss helpful tips as well as introduce our available products. In terms of fire systems, Moore Protection proudly offers smoke detectors, heat detectors, residential fire alarm systems, and water sprinkler switches. You can trust us to protect you in all aspects of your home and we look forward to helping you feel comfortable and safe.
We understand that nothing can replace the emotional losses and nostalgia suffered from a house fire. Don't put your family and home at risk. Schedule a consultation with us today! Our fast response, quality service, and personal attention keep our clients safe 24/7/365. Are you ready?
Social Share